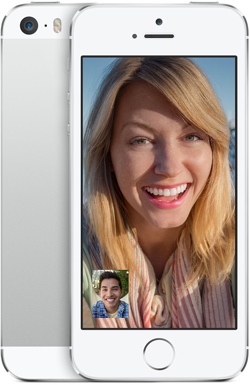 Sony may provide Apple with image sensors for both the front and rear cameras in a future iPhone, according to a new report from Japanese business site Nikkei, which suggests that Apple and Sony are in negotiations that would double Sony's shipments to the Cupertino company in 2015.
The Japanese firm already supplies nearly all of the CMOS (complementary metal-oxide semiconductor) sensors for the current iPhone models' rear-mounted main cameras. Apple is likely looking to switch to Sony sensors for the secondary camera on the screen side, used for taking self-portraits.
Sony recently purchased a new manufacturing plant, reportedly aimed at stepping up production in order to comply with Apple's request for more sensors. Sony will invest 35 billion yen in the facility, which will boost its monthly production capacity by 25 percent.
Since the iPhone 4s, Sony has supplied Apple with sensors for the iPhone's rear camera, while OmniVision has supplied the sensors for the front camera.
Historically, the iPhone's front camera has been of a significantly lower quality than its rear camera. For example, the rear camera in the iPhone 5s, which utilizes a sensor from Sony, is eight megapixels while the front camera is just 1.2 megapixels. While Apple has worked hard to improve the rear camera with each iteration of the iPhone, the front-facing camera has received little attention.
Sony, a camera manufacturer itself, is well-known for its impressive sensors and its work getting large, light-absorbing sensors into small cameras. Apple too has focused its efforts on improved sensors and low-light picture taking capabilities even as its competitors, like Nokia, aim to focus only on higher megapixels.
Apple has greatly improved its iPhone camera with each iteration, and the iPhone 5s, its best camera yet, utilizes a larger sensor with a lower aperture for higher quality low-light photos. It is likely that with Sony supplying sensors, the front-facing camera in a future iPhone could see some significant improvements as well.
It does not appear that the Sony-sourced front-facing camera sensors will make it into the iPhone 6 given the timeline specified in the article, and will instead be included in a future iPhone.
As for the iPhone 6, it remains unclear what camera improvements Apple may implement. While an initial rumor suggested the company would continue utilizing the 8-megapixel rear sensor in the iPhone 5s, a subsequent report pointed to a 10-megapixel or higher sensor for the rear-camera with an f/1.8 aperture and an improved lens filter.
Recent Mac and iOS Blog Stories
• iOS 7.1 to Fix Geolocation Issue That Broke Location-Based Apps
• Apple University's Joel Podolny Goes Full-Time, Drops Human Resources Job
• Apple's iTunes Division Now Nearly Half the Size of Google's Search Business
• Sprint Sells 5.6M Smartphones in Q4 2013, Stops Reporting iPhone Numbers
• 'Flappy Bird' Creator: Game Was Pulled Because It Became an 'Addictive Product'
• Famed Documentarian Ken Burns Launches iPad App
• Apple Loses Appeal to Delay E-Books Antitrust Monitorship But Gains Boundaries
• 'MOGA Ace Power' iOS 7 Game Controller Sees 20% Price Drop

More: continued here