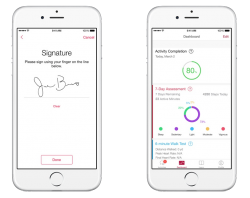 Apple today announced that researchers from Duke University, Johns Hopkins and Oregon Health & Science University are launching three new ResearchKit studies on autism, epilepsy and melanoma.
"We're honored to work with world-class medical institutions and provide them with tools to better understand diseases and ultimately help people lead healthier lives," said Jeff Williams, Apple's senior vice president of Operations. "In just six months, ResearchKit apps studying everything from asthma and diabetes to Parkinson's disease, are already providing insights to scientists around the world and more than 100,000 participants are choosing to contribute their data to advance science and medical research."
ResearchKit is an open source framework, launched in early 2014, that enables developers to create their own iPhone apps for research purposes, with studies available for asthma, breast cancer, cardiovascular disease, diabetes, Parkinson's disease and more. More than 50 developers and researchers have already contributed new research modules to the open source framework.
ResearchKit apps can access data from the Health app with permission, and use iPhone sensors such as the accelerometer, gyroscope, microphone and GPS to track a user's activity levels, motor impairments, memory and more. The research apps, available on the App Store in the United States, are compatible with the iPhone 5 or later and fifth-generation iPod touch or later.
Recent Mac and iOS Blog Stories
• Apple Attempts to Ease Concerns Over Wi-Fi Assist Data Usage
• Pixelmator for Mac Updated With El Capitan Split View Feature and Photos Extension
• New 'Live GIF' App Turns Live Photos Into GIFs
• Apple's First Retail Stores in Middle East Open October 29
• Video Review Roundup: Magic Mouse 2, Magic Keyboard and Magic Trackpad 2
• 'Tweetbot 4' for iOS Gains Support for 3D Touch
• iPhone Upgraders: Apple Offers Partial Refunds for AppleCare+
• August Announces New Smart Lock With HomeKit Integration



MacRumors: Mac News and Rumors – Front Page